We couldn't find any results for
Double check your spelling, try broadening your search words to more general terms or limit your search to one or two words.
Try Visual Search
Find the perfect jewellery with a picture instead of text search. Learn More
Use one of your photos to search
or
or,
Choose a photo from our gallery
below
Your Jewelry Consultant is ready to talk!
They will be on video but won't see you.
Make sure to enable your mic if prompted.
Language:
Your Jewelry Expert is ready to meet!
You will both be on video, but you can turn off your camera if you'd like.
Make sure to enable your microphone and video if prompted.
Choose My Store
Engagement Ring Buying Guide
It's going to be one of the happiest moments of your life. So it deserves a little careful planning – that's why our handy engagement ring guide is here to help you understand all about choosing the perfect, 'she'll-love-it' ring. After all, it's a once-in-a-lifetime purchase!
Rest assured, our engagement ring buying guide has everything you need to know. If you're looking to find out some of the history behind engagement rings, or have some general questions you want answering, then check out our introduction to engagement rings.
Or perhaps you're looking to jump straight into the detail regarding styles and designs? Our choosing the right style and design section is where you need to be. Want to know what size ring you need to buy? Then explore our ring size chart and information.
Looking to explore the range? Then head to our shop the range section where we show you the best ways to shop.
Engagement rings: an introduction
Before we jump into the choosing of the ring, let's take a look at some of the history and traditions surrounding engagement rings.
The history of engagement rings
It's believed that the sentiment behind an engagement ring first stemmed from an Ancient Roman custom, where women wore rings with keys as a sign of their husbands' ownership.
The engagement ring first took off in its familiar guise in Austria in the 15th century, when the Archduke Maximillian gave Mary of Burgundy a diamond ring as a sign of their engagement to be married.
The Victorians and Edwardians carried on the tradition, combining intricate and skillful metalwork with beautiful gemstones. Over time, the idea has remained the same, although different trends mean that tastes in design and appearance change with the fashion a lá mode.
What finger does the engagement ring go on?
The tradition in many countries, including the UK, is that the engagement ring is placed on the the fourth finger of the left hand (helpfully referred to as the ring finger). This stems from an Ancient Roman belief that this finger contained a vein (the vena amoris) that ran directly from the heart to the tip of the finger.
The idea is that this is later joined by the wedding ring during the marriage ceremony.
How much should an engagement ring cost?
The amount you spend on an engagement ring has long been a controversial talking point. Traditionally, many people suggested you should spend three months' salary on the ring, but more recently it's accepted that one month's salary is a more realistic price.
Some people like to stick to tradition, and others like to make their own rules and decisions – it's entirely your choice how much you spend.
Engagement ring prices can vary by store, style, diamonds, cut and even more, so, ultimately the decision on how much to spend on an engagement ring is down to the individual who's buying it. Set a realistic budget and go from there.
If you take into account your partner's likes and dislikes, the price of the ring doesn't matter. The ring being affordable to you, and your partner loving it are the two most important factors.
Choosing the perfect style and design
So, you've decided you're ready to pop the question, and you've set your budget. Now you need to choose the perfect ring for the occasion. Here, we'll take you through the different style options available to help you pick the ring of your partner's dreams!
Which style?
First up, you'll need to consider the ring style, where you have a number of options to choose from.

Cluster
Rings featuring smaller diamonds set closely together to resemble a larger diamond.
Shop Cluster

Bridal Set
An duel set of engagement ring and wedding ring that unify when worn together.
Shop Bridal Sets
What are the different engagement ring settings?
The setting is the part of the ring that holds the diamond (or diamonds) in place. These have a big part to play in how prominent the stone is, so it's worth taking the time to consider your options.
Claw settings– Also known as a prong setting, a claw setting is the most common engagement ring setting and looks like small claws that rise up and grasp the diamond, holding it in place while showing the stone off as much as possible. Typically used to hold large centre or multiple featured stones, this setting can also be made to hold smaller stones. The benefit of a claw setting is that it raises the diamond and allows it to disperse light as it is not restricted by any metal.
Halo settings– The halo setting combines the security of a claw setting, with the sparkle of multiple pavé, invisible-set or channel-set diamonds. Popular with celebrities, the halo setting is designed to make the centre stone look more glamorous, feminine and delicate. Halo settings can be round or squared-off on the sides. For peace of mind, the diamond-encrusted halo adds an extra level of protection for the centre stone, keeping it from knocking or scratching against surfaces. The multiple-diamond setting can make the claw-set centre diamond look larger.
Channel settings – This setting is typically used for wedding bands and features a row of diamonds set side by side in a continuous row between a channel of metal. This style can also be used for side stones, accenting a centre stone of a clawed or halo setting. Channel settings are particularly popular for eternity, anniversary and wedding bands, because the diamonds compliment other rings as the perfect symbol of the continuity of love and commitment. You may come across a channel setting with a bar between each stone, which is known as a bar setting.
Invisible settings – Invisible settings are unique and contemporary, appearing as a sparkling sea of brilliant diamonds. They feature a grid of princess cut or square diamonds that are set side by side to appear as a larger diamond surface. Invisible-set diamonds are specially designed to give the illusion that the diamonds are not held together by anything. This effect is created by setting the stones from underneath, flush to metal surrounding the diamond's grid pattern.
Pavé settings – Pavé diamond rings are a wonderful combination of Hollywood glamour, with a special twist of elegance. This particular setting alludes to both romance and timeless fashion. Featuring tiny diamonds literally paved onto the metal, this setting offers a subtle sparkle. The technique involves the creation of tiny beads or claws from the surrounding metal to hold the diamonds in place. It's a sleek and simple setting perfect for a modest woman, who isn't taken by large diamonds and elaborate styles.
Bezel settings – When a metal band is formed around the shape of the diamond, it is called a 'bezel-setting' – the top of the diamond sits in line with the metal rim. This is considered an old fashioned way of setting gemstones and was popular until the 19th century, however it made a comeback with the fashionable alternative metals in the late 1990s, and remains particularly popular with people who prefer a clean, polished look. A bezel setting keeps diamonds fully protected and prevents them from snagging on things; ideal for people who play sports or with a hands-on jobs. It's less likely to knock against surfaces or scratch other people. Many people also value the bezel setting for its unique and clean, modern look.
What diamond shape
Another consideration when picking the perfect engagement ring is the shape of the stone itself. They can be cut in many different ways, each offering different properties and benefits.
Try something different
If you want to opt for something a little less traditional (but no less stunning) there are alternative engagement rings available that feature other precious stones instead of (or alongside) diamonds.
Popular amongst royalty and celebrities, coloured gemstones are naturally eye-catching, especially as they are a slightly unexpected look on your ring finger.
Options for a more unusual engagement ring stone include:
Which precious metal should I choose?
As well as the stone and setting, another important consideration is the metal type. Engagement rings can be crafted from most (if not all) of the popular precious metals. The classic options are yellow gold and white gold, although rose gold has seen a rise in popularity in recent years and is a great choice if you're looking for something more modern.
If you need something more robust and durable – maybe if you do a manual job – then palladium or platinum offer that same stunning sparkle as white gold, but more resistance to scratches.
For something a bit more eye-catching, you could also choose a two-colour gold ring, say white gold with yellow gold, or perhaps a white gold band with contemporary rose gold detailing.
Finding the right engagement ring size
If there's one thing you need to get right, it's the size! You don't want to offend by getting something too big or small, nor will your new fiancée want to wait with no ring while it's adjusted.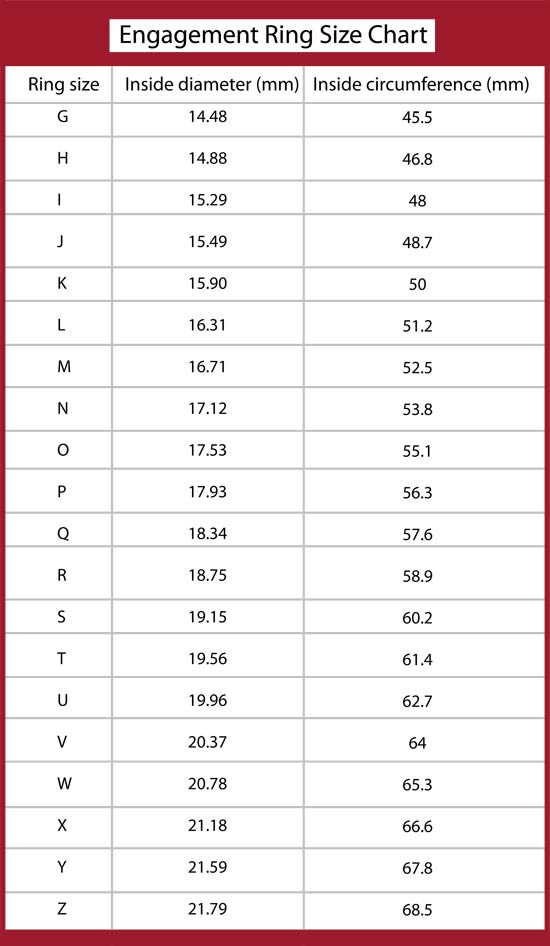 How to measure ring size at home
If you're planning a surprise proposal, asking your partner's size might be out of the question. In that case, it's time to do some detective work to find the right fit.
You could try:
Measuring one of their rings yourself
Taking one of their rings to a jeweller to measure
Ask their friends or family members to find out for you!
Take a look at our guide to discovering your partner's ring size without them knowing here.
Alternatively, you can wrap some string around the ring finger and mark the point where it overlaps, and then measure the length. This will be the circumference you need, then all you need to do is find the correct ring size using a conversion chart.
Engagement ring buying: other considerations
Once you're set on the ring you want, it's time to make your purchase. But before you do that, there are some other things to consider.
How to prepare for purchase
Before you go ahead and buy, think about the way you'll propose. If it's a surprise, you'll need to keep your ring shopping discreet. And it helps if you have a good hiding place to keep the ring under wraps until the time comes to get down on one knee!
Finance options
Buying an engagement ring can be a considerable purchase. At H.Samuel, you don't necessarily have to fork out the full cost all in one go; we offer interest-free credit for up to three years, so you can spread the cost in much more manageable chunks.
Please note this is subject to credit status.
When will my engagement ring arrive?
We have several delivery options available. Standard delivery is free on orders over £40 and your item will arrive within 3-6 days. If you're in more of a hurry, you can have your ring delivered the next day using our express service. This is available for £4.95, or comes free on orders over £500.
What are you waiting for?
Ok, you're all set. Now you've had chance to narrow down your options, it's time to go ahead and take the plunge.
Buy online
Looking for inspiration? Browse all our engagement rings and find the perfect one for the special person in your life
If you prefer to see the real thing before making a purchase, you can head into your local store where one of our friendly advisors will be able to help you find the perfect engagement ring.
Book an appointment now
Sign Up
Your request successfully submitted
You have added maximum number of Favourites.
You have reached the Favourites limit.
Sign in to add more and ensure your Favourites will be available on all your devices.
or use a different account
You have added maximum number of Favourites.
You have reached the Favourites limit.