We couldn't find any results for
Double check your spelling, try broadening your search words to more general terms or limit your search to one or two words.
Try Visual Search
Find the perfect jewellery with a picture instead of text search. Learn More
Use one of your photos to search
or
or,
Choose a photo from our gallery
below
Your Jewelry Consultant is ready to talk!
They will be on video but won't see you.
Make sure to enable your mic if prompted.
Language:
Your Jewelry Expert is ready to meet!
You will both be on video, but you can turn off your camera if you'd like.
Make sure to enable your microphone and video if prompted.
Choose My Store
In order to purchase a new watch with confidence, there are a lot of design factors worth considering. For example, understanding the range of different materials, case options and watch movements available will empower you to make the right choice.
Whilst buying a watch can be impulsive or a statement of your aspiration, style and identity, this guide will help you get clued up about watches so that you can successfully navigate your way through the huge array of timepieces available.
With such a huge amount of choice, understanding the design elements of a watch is the smartest way of ensuring that you find the right watch for you. The perfect addition to any outfit that can either complete your accessorised look, or stand alone as a stylish statement – enjoy finding your perfect timepiece!
Choosing a watch to suit your budget
How much you spend on a watch will depend on a number of factors. If you're working to a set budget, you'll be able to narrow your options by looking in the relevant price points. If you're a little more flexible on cost, consider the needs and purpose of your purchase.
Consider the purpose of your new watch
If it's an everyday piece for work or play, a budget option with basic features might do the job. However, for a gift or a watch to be worn on special occasions, you may want to stretch to something more luxurious, crafted from finer materials and with additional engineering precision.
If you're into sports or outdoor pursuits, think about what other elements your watch requires; could you do with just a stopwatch, or do you need GPS and calorie counting capabilities?
Watches can vary between brands, designs, materials and purpose, so it's a good idea to make a "wish list" of features you'd like, and exploring different pieces to suit your budget.
Don't forget, some watches can also be bought on interest-free credit, allowing you to spread the cost and pay a more manageable sum each month.
Watch functions & features
The basic functions of a watch include second hands, day, date, dual time and alarm. However, developments in technology have allowed wrist watches to become more advanced in terms of their functionality. Think carefully about your lifestyle and consider each of the functions within this guide to help you choose a watch to fit your needs.

GPS
GPS stands for Global Positioning System and is a satellite navigation system which provides time and location data. Perfect for outdoor enthusiasts, GPS watches provide the wearer with their exact location on Earth, preventing them from getting lost.
Shop GPS Watches

Perpetual calendar
A perpetual calendar is a mechanism that tells you the exact date, automatically adjusting to the amount of days in a month. Some possess a moon cycle indicator, which illustrates the changing visible section of the moon that we see from earth.
Shop Perpetual Calendar

Tachymeter
A tachymeter calculates speed, or average speed, over a known distance. This is a useful function of sport watches since it allows the wearer to track the speed at which they are moving when doing physical activities such as running, sailing or cycling.
Shop Tachymeter Watches
Chronograph watches
A chronograph is a watch that can be used as a stopwatch as well as for keeping time, and is therefore ideal for anyone who enjoys training, running or going to the gym.
Chronograph watches feature a second hand with a flyback function which returns the hand quickly to zero, so you can start timing again. Simply press the start button to start the stop watch function and the second hand will start moving. Press stop to stop it and the reset button to activate the flyback and return the hand to zero.
Some chronographs have split timing. This is when a chronograph has two second hands - the main second hand and an additional one. Both hands move together, but the wearer can stop one of them whilst the other hand continues around the clock face. This is perfect for marking lap times or milestones on a route while you are training. Both will feature a flyback function to return them to zero.
Whilst a flyback is a technical function of chronograph watches, it can also appear as a design feature on non-chronograph watches.

Heart rate monitor
A watch with a heart rate monitor allows the wearer to track their heart rate during physical activity. This is important in analysing the intensity of a workout and, when combined with other functions such as calorie counters and interval timers, forms a complete aid to helping you reach your fitness goals.
Heart Rate Monitor Watches

Lap Timer
Lap timer is a watch function that can be used to measure the time taken to complete each section or lap of a race. By resetting the clock at the end of each lap, speed and pacing can be tracked to measure overall performance. Explore the stunning collection of lap time watches online today and ensure you're always on time.
Shop Lap Timer Watches

Calorie counter
Calorie counter watches are an ideal accessory for anyone wanting to reduce or sustain their weight through physical activity. With all the features of a normal wristwatch, they conveniently track how many calories are burned during exercise, helping you to stay on target throughout your fitness plan.
Shop Calorie Counter Watches
Water resistance
The term water resistance refers to the watch's ability to withstand water to varying degrees – from splashes right through to use under the sea.
The resistance of a watch is only an indication of how waterproof it is. If you are swimming with a watch, the movement of your arms will drastically alter the pressure that the watch is under. Or if you use your watch in a hot tub, sauna, bath or shower, the heat could cause the seals to expand. This would cause the water resistance to be compromised, making your watch less water resistant or even causing it to malfunction completely.
Water resistance is tested in still or static conditions. So, if you dive into a pool wearing a watch which is 50 metres water resistant, the pressure impacted upon the watch on hitting the water will be far greater than that experienced at a 50 metre static test. As a result, the number of metres shown on a watch face does not indicate the depth that the watch can be taken to.

Rotary Dolphin Standard
Rotary watches feature a unique 'Dolphin Standard' across their entire range of watches. Dolphin Standard means that these watches can be worn confidently all day whether you are swimming, wake boarding, or whatever water sports you prefer.
*Only watches marked "Divers" on the dial should be used for diving, as they fully comply with the international standards for divers watches.
Watch manufacturers use other terms to measure water resistance:
A.T.M. (atmosphere), where 1 A.T.M. equals 10 metres
Bar, where 1 bar equals 10 metres
Watch materials & components
A watch can feature a number of materials; the case, band, strap, crystal and movement may all be made from different things. The materials used are arguably the most key design element of a watch and can completely change its look.
However they may also affect the durability, longevity or performance of the watch, so you should carefully consider the materials used when choosing a timepiece.
Build your watch
The crystal
The crystal is a clear cover that fits over the watch face, protecting the interior from dirt, scratches and other damage. Typically this will be made of glass or plastic.
The type of crystal used varies, and is usually determined by the overall price of the watch. For example, the most affordable material used for the crystal is acrylic. This light and inexpensive plastic is really hard wearing and is therefore often used in sports watches since it doesn't shatter or crack. However, it can scratch easily compared to some other materials – so think carefully about your lifestyle and the level of durability you need when purchasing a watch.
Mineral glass is more scratch-resistant than acrylic, but can crack or shatter under extreme conditions. It is made by treating regular glass with either heat or chemicals so that it can withstand rough treatment.
In most luxury watches, the crystal of choice is sapphire crystal. This synthetic compound has the same physical, chemical and optical properties of natural colourless sapphire. It is favoured by high-end watch manufacturers because of its resistance to scratching – only a diamond or another sapphire can scratch its surface. However, sapphire crystal shatters more easily than acrylic and should not be treated as though indestructible.
The case
The key function of the case is to protect the inner workings of a watch. Therefore, they are often made from hard-wearing metals such as stainless steel. This durable metal is ideal for watches since it resists tarnishing and discolouration, allowing the wearer to use their watch with confidence on a daily basis. For a lighter but equally durable alternative, why not explore titanium as an option for your watch?
Gold and platinum are also popular choices and set the standard for luxurious watches. Although costly, platinum watches make the perfect heirloom as the naturally white dense metal doesn't change colour over time. In addition, it is hypoallergenic and can therefore be worn daily without irritation.
Ceramic (particularly white ceramic) has also become a favourite for women's watches thanks to its unique look and designer cachet. Plastic watches can often achieve a similar look at an affordable price.
The band (bracelet or strap)
The band is a strip of leather, rubber, cloth or metal that attaches to the case and wraps around the wrist – comes in two forms; a bracelet or a strap. Its material is another consideration when thinking about the right watch for you.
Bracelet watches are made of interlocking links which can be added or removed in order to resize it to fit your wrist. These are usually made in the same material as the case – although this is not always true.
Strap watches come in a variety of different materials including leather, fabric, rubber and plastic. These are easily adjusted to your wrist by changing the position of the buckle – like a belt.
Watch movements explained
If you're on the hunt for a new watch, there are plenty of features that make each one unique. Understanding movement and working out which type you prefer is as good a place as any to start when searching for the right timepiece for you.
Movement is what makes a watch 'go'; it's the engine and the mechanism that ensures all its functions keep ticking over nicely. It's this instrument that moves the hands and powers all the watch's timekeeping functions. Put simply, a watch won't work without the movement.
Different types of watch movement
Movement can be divided into two categories – those with a mainspring and mechanical function and those powered by electricity.
Our guide will help you understand the differences so you can be confident that you know your automatic movement from your quartz – and everything in between.
What is a mechanical watch?
If you're a fan of tradition, this centuries-old type of watch is for you. Mechanical watches ooze class thanks to the fine craftsmanship and intricate work that has gone into putting them together. In a mechanical watch, a series of tiny components and moving gears work together to power the piece. It gets its energy from a mainspring that is wound every day or every few days. As this wound spring uncoils, it powers a balance wheel, which turns a number of times per second to move the watch's hands.
You don't need to look much further than the dial to clock a mechanical watch. Check out that second hand – if it's moving in a smooth, sweeping motion, you're looking at mechanical movement (as opposed to the individual 'tick-tock' of quartz movement).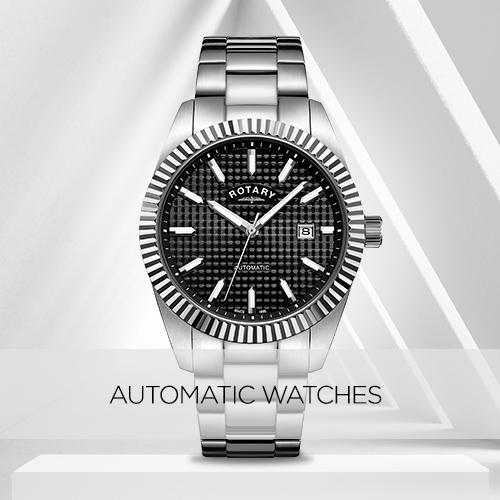 What is an automatic movement watch?
Another type of mechanical watch, an automatic watch is self-winding and gleans power every time you move your wrist.
But how do automatic watches work? While they're similar in many ways to mechanical watches in how they keep time (with the balance wheel and a mainspring), automatic watches house a weighted pendulum, which spins with the wearer's movements. This energy is then transmitted through to wind the spring. This type of watch will store energy for up to 48 hours, so it needs to be worn regularly, but requires little maintenance otherwise.
Abraham-Louis Perrelet is considered the inventor of the automatic winding pocket watch, but it was Bolton-born watch repairer John Harwood who first applied the idea to wrist watches. Rolex can lay claim to being the first brand on the scene with this modern rotor winding system when it brought us the Oyster Perpetual in 1920 – and the technology behind this Rolex movement hasn't changed in the 100 years since.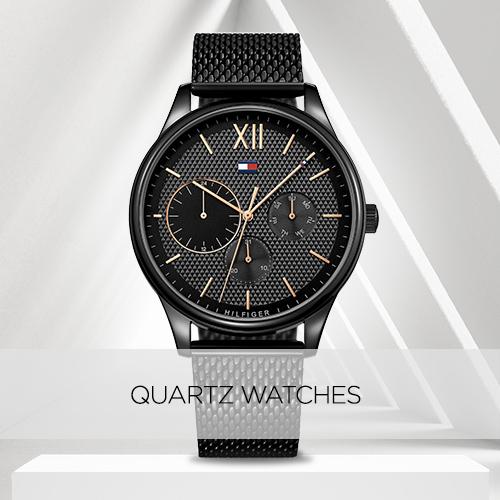 What is a quartz movement watch?
This type of watch is battery-powered and has few moving parts. Quartz watches first became available in the late 1960s and have grown in popularity since thanks to their accuracy and low maintenance. With a quartz watch, you can expect around half a second a day gain or loss – impressive accuracy in comparison to some other movement types.
But how does a quartz watch work? An electronic charge from the battery makes a tiny piece of quartz vibrate at a set frequency to regulate the time. The principle is less complicated than some of its counterparts so it's less expensive to manufacture – meaning most quartz watches are cheaper to buy.
While watch enthusiasts will always go for the technical expertise of mechanical movement, quartz watches are big news in fashion. They're stylish, affordable and display superior accuracy.
Time to choose your perfect watch
Whether you're all about engineering ingenuity at the hands of expert watchmakers or prefer the simple yet precise offering of a quartz watch, the perfect timepiece for you will depend on your own taste, requirements and lifestyle.
After reading this guide, you can put your new-found knowledge to use and discover a brand new watch that brings you style and function.
Book an appointment
Need a hand making your decision? Our friendly watch experts are waiting to help out – book an in-store appointment at your local H.Samuel branch where we'll be happy to assist.
Sign Up
Your request successfully submitted
You have added maximum number of Favourites.
You have reached the Favourites limit.
Sign in to add more and ensure your Favourites will be available on all your devices.
or use a different account
You have added maximum number of Favourites.
You have reached the Favourites limit.