Ear Piercing at H.Samuel
Our Perfect Piercing studio is your one-stop shop to create your dream ear stack. Buy a pair of piercing earrings and get your ears pierced for free. Safety and hygiene are our top priorities. Our fully trained piercers use sanitised, single use equipment for the highest level of safety. As part of the Perfect Piercing service, you'll receive an aftercare kit to help with the healing of your new piercing. It's officially time to get your ear stack on.
Safety and Hygiene
We pierce using the exclusive Inverness Ear Piercing System. The earrings are sterile, pre-sealed, hypoallergenic and have a secure Inverness Safety Back.
Your aftercare kit will include Inverness Aftercare Solution and a guide on how to care for your piercing at home
All of this - for the safest ear piercing experience possible.
To find out more, check out our FAQ's below.
Ear Piercing FAQs

At H. Samuel, ear piercing is available for anyone over the age of 7. If you're under 18, just ask a parent or legal guardian to come along. We will  need their consent to be able to do the piercing,

If you are 18, don't forget to bring some photo ID. We're talking: a driver's license or passport. 

Getting your ears pierced at H. Samuel Perfect Piercing studio is free when you buy any set of piercing earrings. Yes, you heard us right, it's FREE when you buy any piercing earrings.

H. Samuel does up to two piercings on each ear at any one appointment. So, four in total (whether that's on the cartilage or lobe). Our piercing experts will help you create your perfect piercing stack.

We use Inverness Safety Back™ earrings. They are all sterile, pre-sealed and hypoallergenic. You can choose from gold, titanium, silver and diamond studs. With a range of different metals finishes, sizes and prices. There really is something for everyone.

At H. Samuel, our top priority is your health and safety. Every customer's ear is cleaned and sanitised with a special solution and gloves are used for optimal hygiene. The Inverness Piercing System is completely sterile, with the studs being held in their own cartridges which are inserted into the hand-pressured device. The Perfect Piercing Studio is always cleaned and sanitised between each customer.

Ear piercings are usually the least painful kind of body piercing. It may just feel like a slight pinch. All of H. Samuel's piercing earrings have ultra-thin piercing posts, which help to minimise pain. If you're experiencing discomfort, we recommend seeing your GP.

Yes, H. Samuel do walk in piercing appointments. You can come into store at any time to get your ears pierced. We would recommend booking in advance, just in case it's a busy day. To book in at the Perfect Piercing studio: call the store or book an appointment online.

Before the piercing, our in-store piercing expert will take you through all you need to know about the process and the forms that need to be signed.  For the actual piercing, your ear will be cleaned with a special solution and then the piercing area is marked, if you want to change the positioning, this is completely up to you. We use the Inverness Piercing System, which is a hand-pressured device using individual cartridges.

Remember: we only pierce the lobe and cartilage area. The ear is pierced (it only takes a second) and is then repeated on the other side. And voilà, you have pierced ears.

You just had your ears pierced, now what? Use these tips to help you through the healing period.

Earlobe Piercing: Leave the piercing earrings in for 6 weeks

Cartilage Piercings: Leave the piercing earrings in for 12 weeks

Clean Hands: Always be sure to wash your hands thoroughly before touching your ears or earrings.

Cleaning Tips: Gently slide your earring back and forth while cleaning to help the solution reach inside your piercing.

Turn Turn Turn: Gently rotate your piercing earrings at least 3x's a day, ideally after you have applied your Inverness Ear Care Solution.

Brush Carefully: Be extra careful not to catch your piercing earring when brushing your hair.

Protect: Avoid irritating your piercing with products such as hair spray, shampoo, soap, perfume, or cosmetics. After using any of these, clean your piercing with your Inverness Ear Care Solution.

Warm Weather Tip: Protect your piercing from the sun by wearing a wide-brimmed hat. Avoid getting sunscreen in your piercing. If you do, rinse with clean water, and reapply your Inverness Ear Care Solution.

Sports Tip: Athletes- before you get pierced, ask if you are permitted to protect a new piercing with a plaster or sports tape during games and practice. If not, plan to have your ears pierced in the off-season.

Remember: Pain, redness and swelling are not a normal result of ear piercing and can lead to infection. Should pain, redness or swelling appear any time after 24 hours after the piercing, remove the earring and see your physician immediately.

This is extremely urgent with cartilage piercing, as very serious infections and/or complications can result.
Discover Ear Piercing Earrings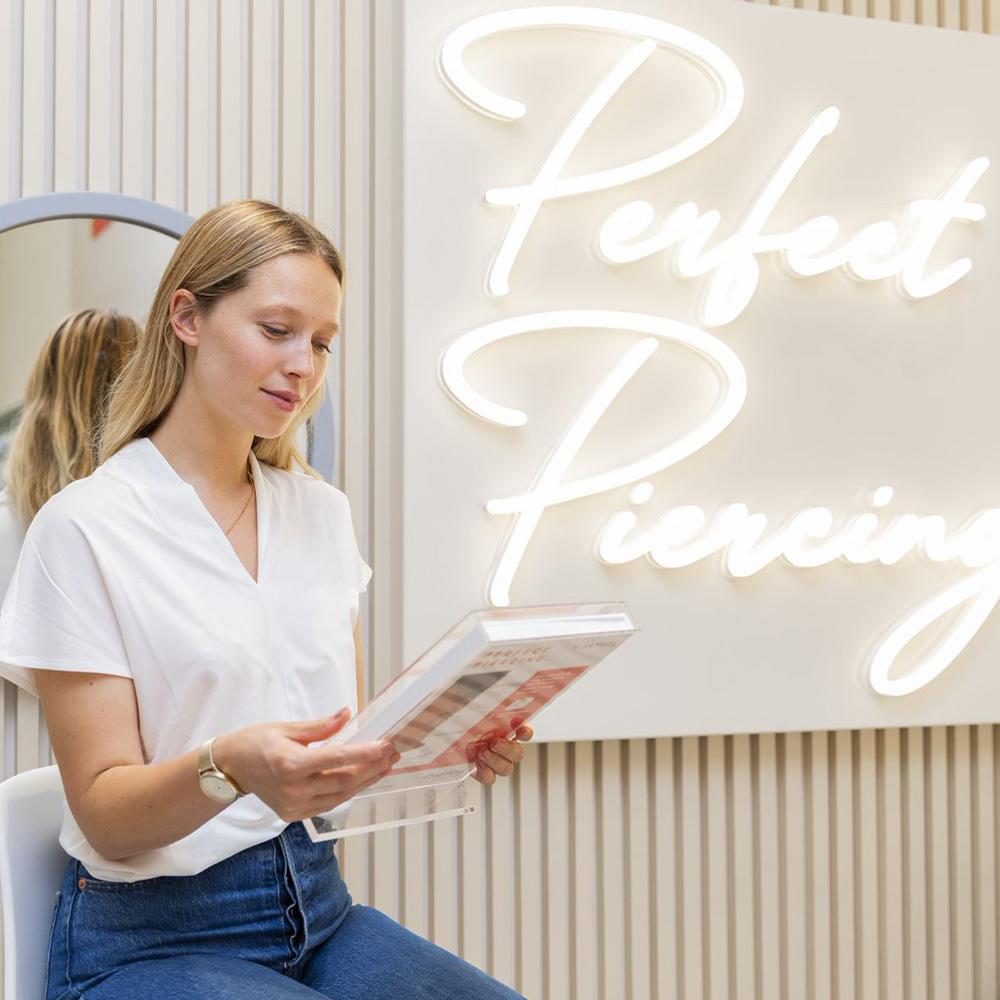 Come With Us to Get Our Ears Pierced at H. Samuel
We get multiple ear piercings and speak with an expert about the entire process. Read on for every answer to your piercing questions.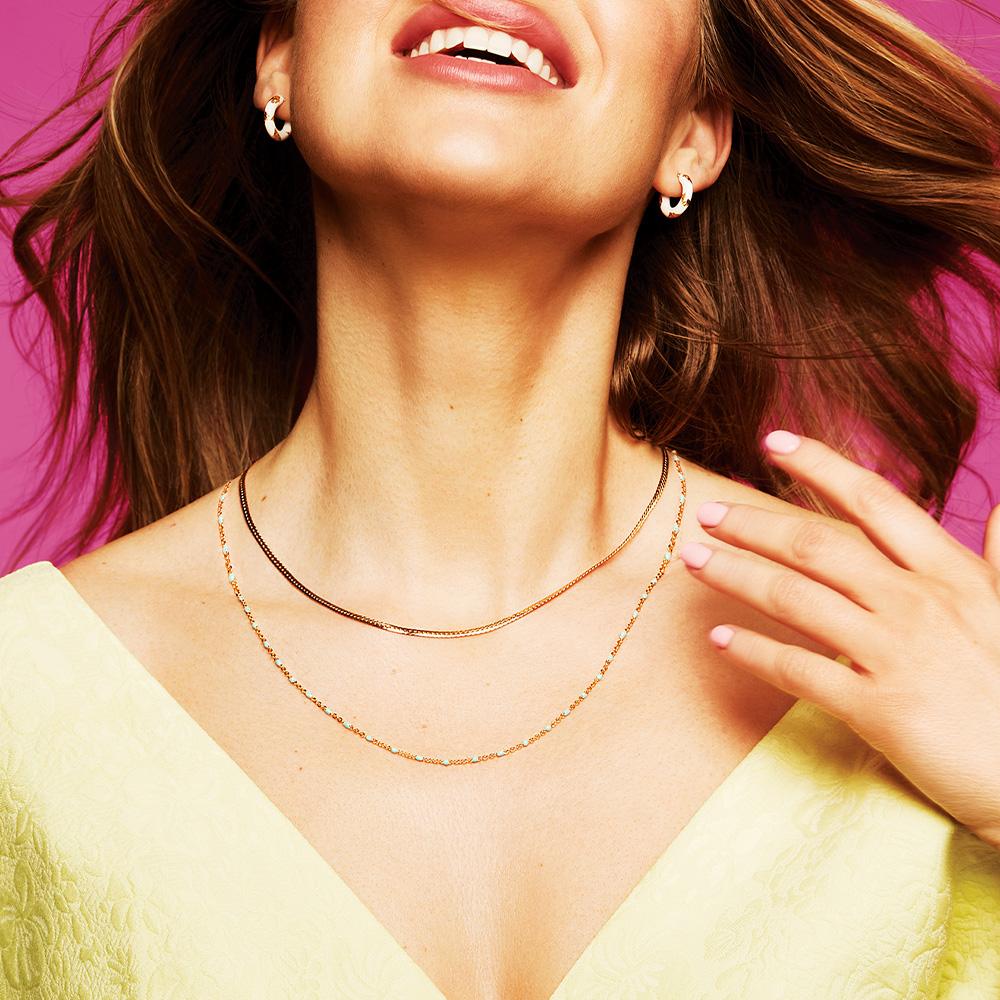 Perfect Piercing: A Guide to Getting Your Ears Pierced
Discover our ear piercing guide for all you need to know, from piercing aftercare, to how to style earrings.