13 SEPTEMBER 2023 | H.SAMUEL WRITER
Featuring on-the-pulse-of-fashion designs and modern twists on beloved classics, the new collection sets the tone for your everyday looks and makes gifting that much easier, because let's face it – who doesn't love diamonds? From unusual shapes – think toi et moi – to sleek metallic finishes, it mixes this season's biggest trend of coloured gemstones with everyday sparkle for a glamorous yet wearable style all year round, your go-to for sparkle from the big day to every day. The best bit? They're affordable too.
Diamonds are forever
No matter whether you're in a minimalist or maximalist state of mind. All these pieces are carefully considered everyday designs you'll never want to take off. Plus, as a founding and certified member of the Responsible Jewellery Council, we're pioneers of responsible sourcing and all our diamonds have been certified as conflict-free as part of the Kimberley Process.
How to Style Everyday Diamonds
Our everyday diamond jewellery is all about breaking the rules, and that includes the rules of traditional jewellery shapes. Look for geometric shapes, irregular cuts, and unexpected designs that add a unique touch. The maximalist diamond trend is all about embracing layering and making a statement. Start with a statement piece — this could be a large diamond necklace or a chunky diamond bracelet, then add in more layers of diamond jewellery. Mix and match different styles and textures to express yourself the way you want to.
Stacking is a core styling technique for us, so the playful idea of more-is-more takes the spotlight here. Each piece works with the next to get you layering like a pro. Mix and match chains, delicate charms and look-at-me pendants worn all at the same time. Double or triple up on stackable rings for every finger. Keep your ear to the ground with always-in studs, hoops and huggies. Say bye-bye to bare wrists with dainty bracelets. Express your personal style with gemstones like amethyst, black onyx, blue topaz and emerald for luck, love and protection (and other good-will sentiments).
Our top tip for wearing diamonds?
Every day, of course. They shouldn't just be kept for special occasions. Mix and match them with your favourite everyday jewellery because diamonds are too beautiful to only be kept for 'best'.
Your Best Friend for Style
Sally Arkley-Wade, our Head of Product and Trading said: 'Why should a diamond just be for that special moment? Our trend-inspired diamond pieces are perfect for elevating the everyday and make great gifts – for you, a loved one, or just because. Plus, they're so easy to style – just add layers of sparkle or pile on our stacking rings to add a modern twist to classic jewellery styles. At H. Samuel, we want everyone to be dripping in diamonds every day, and with our new collection of affordable diamond must-haves, you can be.
For more styling hacks, tricks and tips book an appointment with our style experts, always there when you don't know what to wear or how to pair.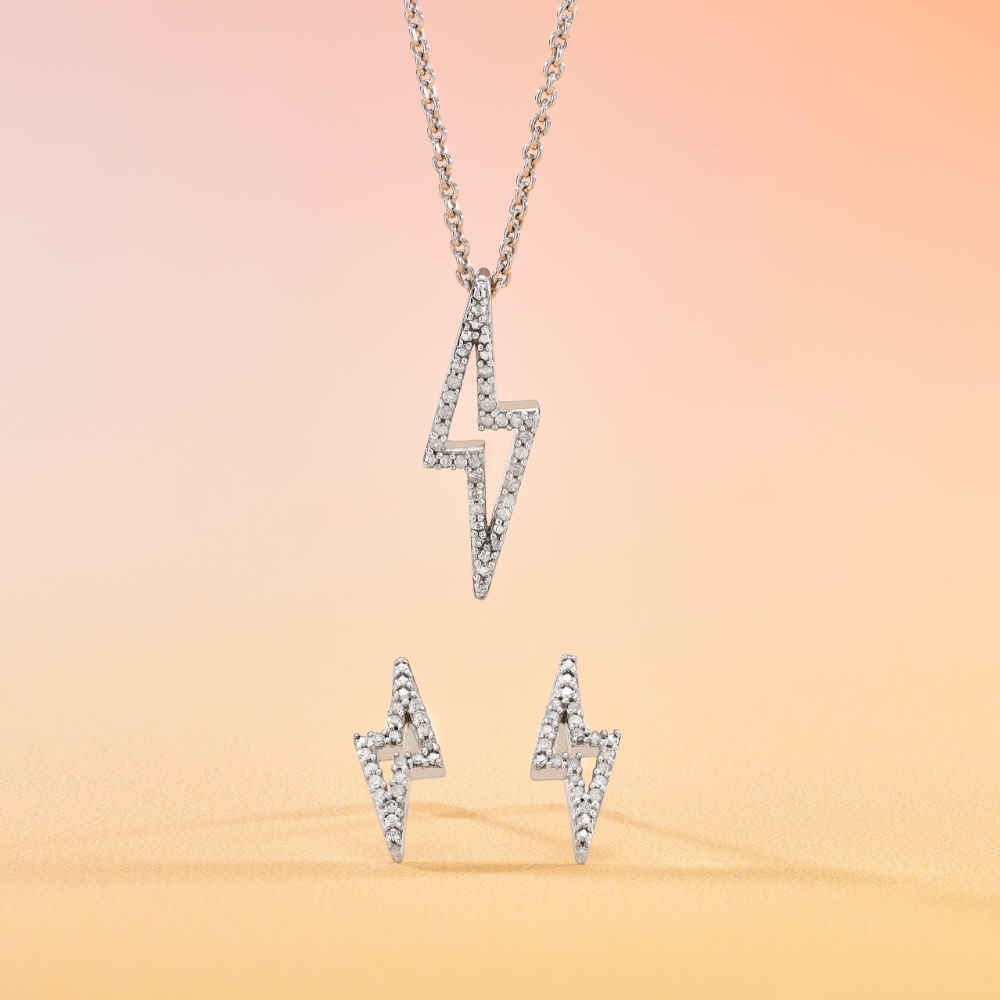 How to Style Diamond Jewellery
Our diamond style guide. Contemporary. Glamourous. And street wear chic approved.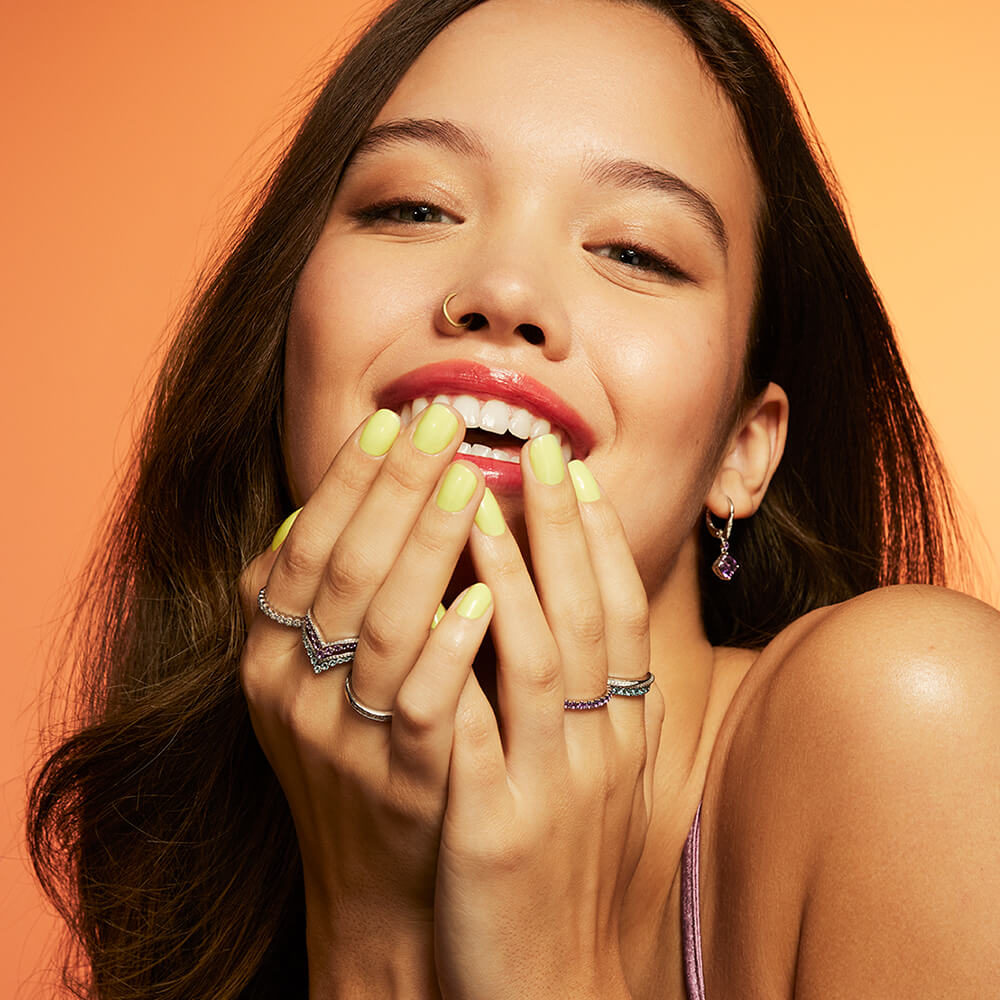 Dopamine Dressing: How to Wear Coloured Jewellery
Dopamine dressing is in, and this means bold looks that favour colour and comfort over conformity.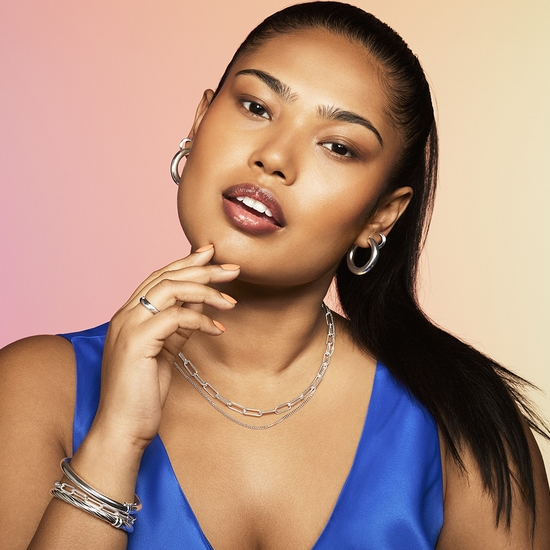 Everyday Essential Jewellery: How to Style
Read on to discover the collection and our styling and stacking hacks on how to wear it.