How to have your fairytale wedding
Horse drawn carriages, exuberant flower bouquets, grand castle surroundings, the perfect white dress and - of course - your prince standing opposite you at the altar. Usually the stuff of dreams, Disney films and those lucky enough to marry into sovereignty - but you can have your fairytale wedding too. Here's how to plan your fairytale spring wedding to truly declare your love in style.
On your wedding day you shouldn't have to settle for anything less than perfection, but prioritising the things that are most important to you is a way to avoid disappointment (and avoid raking up a huge bill). If you've kept a scrapbook - whether in physical form or in your mind - go through each element of your wedding with a fine-tooth comb and determine the things you're willing to splash out on and the things you would be willing to cut back on.
Don't get bogged down by tiny details
Your wedding is not just about you - shocking isn't it!
Your family and friends are spending their day celebrating you - so they need to enjoy it too otherwise it simply will not be memorable. And you want everyone to remember your wedding day! Put yourself in the shoes of a wedding guest, think about weddings that you have attended in which you really enjoyed yourself – spent the night dancing, drinking and celebrating with your favourite people – now base your wedding around that.
For example, a great wedding music playlist is more important than the colour of the place settings, a tasty wedding breakfast will prove more memorable than the inches of your heels, and a well-stocked bar will keep your guests occupied for longer than whether the usher's ties are half Windsor or full Windsor knots.
Concentrate on the important things
There are huge benefits from spending your time on the things that will make the real differences on your big day. By concentrating your time on the things that matter most to you and your guests you relieve a lot of stress from the planning process - leaving you more time to enjoy the wedding process with your partner.
If your dress is high on your priority list, then take it seriously. Book appointments at several shops that you know are good, take time to wear each dress choice and test that it's comfortable, think whether it will go with your choice of shoe and jewellery, and make sure you like the staff in the shop (as they will be the people you rely on to adjust your dress properly and make it fit perfectly). Most of all, do not settle for anything less than perfect.
But – on the same hand – do not treat every element of your wedding in the same way. This will only clog up your time, reduce your enjoyment of the planning process and make you resent your wedding day as a whole.
Remember to enjoy yourself
It's all too easy to get so wrapped up in making sure everything runs smoothly that you forget to enjoy your day. But remember, there are always people around you that can help with this. Do not be afraid to delegate jobs and responsibilities to your wedding party to take some of the stress away from you and your partner.
Nerves can get in the way too. To help cure this, spend some time on mindfulness exercises the night before, and even the morning of, your wedding. Have a good book to read, make use of the local spa facilities, start writing your thank you letters to your wedding party and guests - all this can take your mind away from what's to come and effectively help you to relax, clear your mind and be ready for the day ahead.
Your fairytale wedding doesn't have to include castles, white doves, horse drawn carriages and enough flowers to make a lifetime supply of pot pourri - it simply needs whatever it is that makes you happy. Your fairytale wedding will cease to be your fairytale wedding if its marred by memories of the stressful planning process. So, chill out, take it one step at a time, and don't let stress get the better of you.
Get your fairytale jewellery at H.Samuel this spring
With stunning collections of princess-inspired jewellery, made to be worn on your wedding day, H.Samuel is the perfect place to shop for those all-important accessories that will help to complete your wedding style.
The collection of pendants, rings, earrings and bracelets, all designed with the fairytale bride in mind, features pieces created in the most precious of metals and the purest of diamonds. The perfect wedding accessories can be yours at incredible prices from H.Samuel.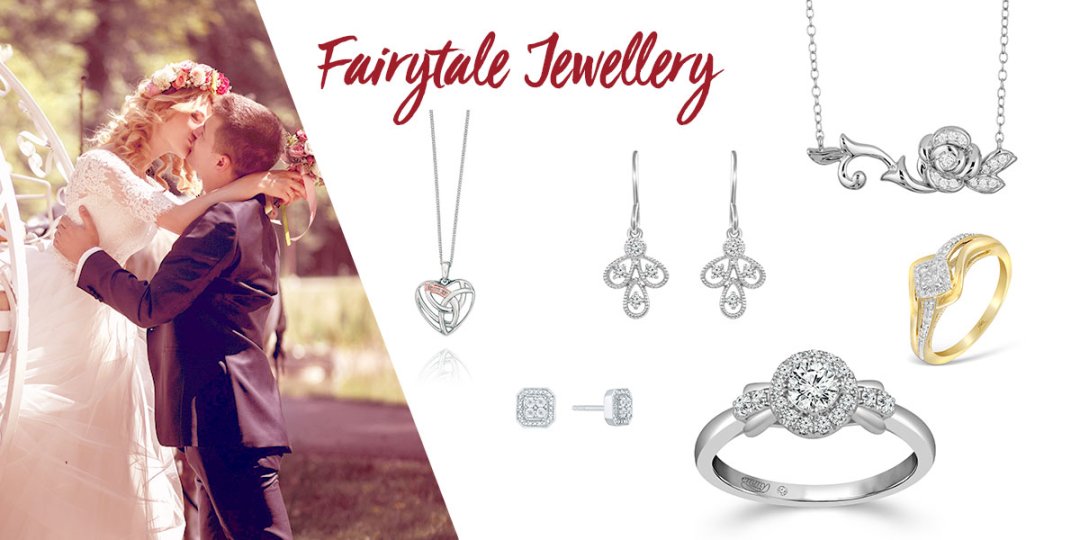 SHOP OUR FAIRYTALE JEWELLERY COLLECTION NOW
"If I cry at my wedding, it'll be because I'm overjoyed that the planning is finally over" - not you