With the long-overdue passing of equal marriage laws, same-sex couples have finally been able to navigate the wedding planning waters in the United Kingdom. Since then, we've seen many couples do away with, or reinvent, the older, stuffier traditions in favour of modern twists that better fit with their beliefs. From the proposal to the service and the outfits to the gifts, here we'll share some of the same-sex proposal and wedding traditions we love.
SAME-SEX PROPOSAL TRADITIONS
As several of our customers have told us, with same-sex couples there is a greater risk that you are planning to propose at the same time! So, if you feel that it's almost time to pop the question, how about dropping into conversation how much you'd like to be the one to ask or be asked - that way you can hopefully both have your ideal proposal scenario.
Tradition dictates that the groom should ask permission from the bride's father before popping the question, but there is no obligation to do so in a same-sex proposal. However, if you know that would be important to your partner or your future in-laws, then it's a tradition worth keeping.
Whether you get down on one knee is a very personal choice and whilst it's not done as often in same-sex proposals, many are still choosing to make the big romantic gesture. However, modern-day proposals are less about tradition and more about the moment, and without doubt, the best proposals – bended knee or not – are the ones that are personal and heartfelt. See our 'Top 5 things to consider before proposing' guide for tips on nailing that perfect proposal.
Same-sex engagement gifts
Rings are an incredibly meaningful piece of jewellery and a universal symbol of love and commitment, so, unsurprisingly, they are still a key part of proposals for many same-sex couples. Male couples tend to propose with a ring which acts as both engagement ring and wedding band, whereas a diamond or gemstone engagement ring, or a bridal set, is still the most popular choice for lesbian couples. In some cases, the person proposing also picks out a ring for themselves when buying one for their partner, so that they can both wear a ring after the proposal. Another emerging trend for couples looking for something a little more understated is to mutually agree to get engaged and then shop for rings, or another meaningful engagement gift like their dream watches, together.
Choosing the perfect engagement and wedding rings as a same-sex couple
Your choice of ring is as unique as your relationship, and with a wide range of options and styles to choose from, finding the perfect ring can be a little overwhelming. At H.Samuel, we believe in making the whole process as stress-free as possible, and we're here to help you pick out the perfect matching ring set for you and your partner, or to help you find individual rings that perfectly suit your unique styles. Our range of men's wedding rings includes bands in a variety of widths and metal types including rose, yellow and white gold, silver and platinum, to modern two-tone rings and even diamond set designs for lovers of a bit of sparkle.
For ladies, our extensive collection means you'll find the perfect engagement ring to suit all tastes and budgets, from elegant diamond solitaires to modern cluster rings and unique designs – we have you covered. If you opt for a bridal set, then you'll have a wedding band included, or you can choose to shop for the two rings separately. With one of the widest selection of ladies wedding rings on the high street, you'll be sure to find the ideal design to enhance the beauty of your engagement ring.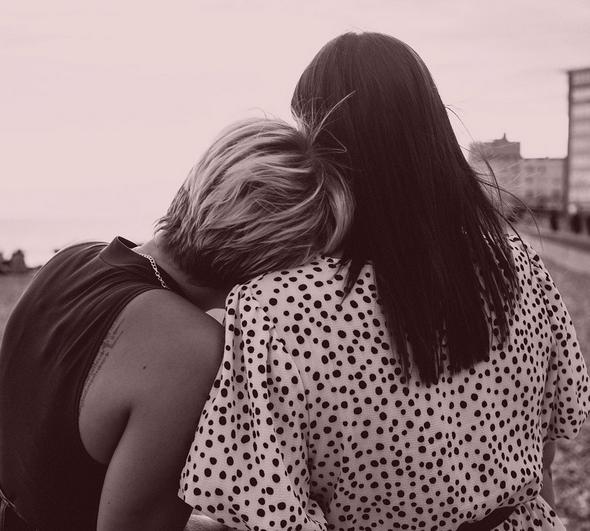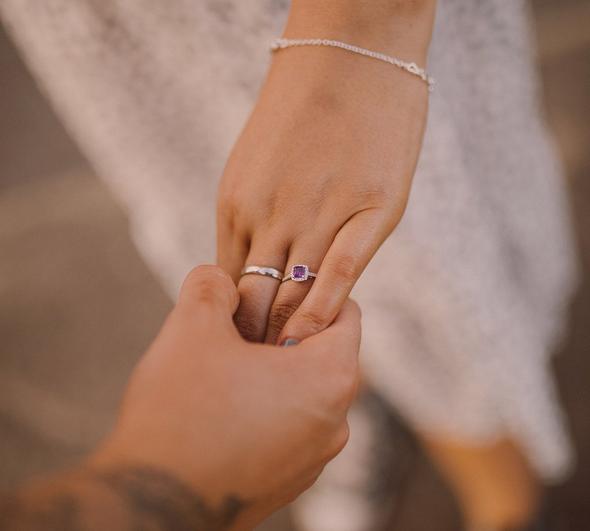 THE NEW TRADITIONS OF SAME-SEX MARRIAGE
The same-sex marriage act was passed in England and Wales in 2013, with couples being legally able to marry from midnight on March 29th 2014. The first weddings took place at one minute past midnight. Scotland then followed suit in December 2014, with the first marriages taking place on Hogmanay. Ireland then legalised same-sex marriage in 2015 and Northern Ireland in 2020.
As same-sex marriage is still relatively new, it can be difficult for couples to know what parts of the 'traditional' wedding day to keep and what to do away with. At H.Samuel, we believe the most important thing to remember when planning your big day is to make sure that it is uniquely you. If you want to throw out the rule book entirely, or just adapt some traditions to better suit your taste and beliefs, then that is completely your choice. Here are some of the ways that same-sex couples are mixing things up.
In the UK, couples have two options to legally recognise their love - a marriage or a civil partnership. Religious marriages are available in Scotland, and in some other UK venues that have chosen to opt in to marry same-sex couples. A marriage without any religious context is known as a civil ceremony, and is available to all couples. Many couples choose to have the legal part at a registry office, and then have a celebration with all their family and friends where a celebrant or friend takes the service. That way, the service can be more about your personal love story. Or, if you'd rather your loved ones are there to watch you exchange your legal vows, you'll need to find a venue with a civil ceremony license. You can find a pre-approved list of stately homes, hotels, restaurants, racecourses and even zoos on the marriage and civil partnership page of the direct.gov website.
Wave goodbye to gender roles
Gender shouldn't define anyone's role at the wedding, so don't feel obliged to have two maids of honour just because you are a lesbian couple, or two best men if you are a male couple. It is increasingly common for couples to have a mixture of male and female wedding attendants. The most important thing is that you are surrounded by the people who love and support you the most – regardless of their gender.
The tradition of hanging out with the guys or the gals for one last big hurrah is increasingly being ditched by the LGBT+ community. Instead, many couples are opting for a shared event with their closest friends of both genders, rather than having two separate stags or hens. This is an excellent idea if you have lots of overlapping friends, or if you and your partner would enjoy doing similar activities. What you choose to do will be down to your taste as a couple, but popular options include big nights out, dinners, couples getaways and even holidays.
Get creative with your outfits
It's your big day so you can wear whatever you like! For male couples, a suit or kilt for the ceremony tends to be the most popular outfit choice, but how dressy you go is totally up to you. Many lesbian couples choose to stick with a white dress, but stylish bridal suits and coloured dresses are also becoming increasingly popular, with many couples choosing to mix it up and wear one of each. Another trend is to change out of the more formal outfits and into something that shows off more of your individual personality and style for the evening reception.
Lots of same-sex couples choose their wedding outfits together. Often this means there isn't a need for a 'big reveal', with many couples spending the night before the wedding together, and some even opting to get ready together on the morning of the wedding. However, if you want that big 'O.M.G' moment when your other half sees you for the first time then absolutely keep it as a surprise – it's all about making the day exactly what you dreamed of, and you can always exchange fabric swatches to ensure your outfits will look great together.
There isn't any set aisle etiquette for same-sex marriages, with many couples choosing to put their own spin on it. Popular options include showcasing your unity by walking down the aisle together, taking it in turns to have a grand entrance, or being 'given away' by one or both parents, a sibling, or one of your closest friends.
Civil partnerships don't require vows, so previously anything same-sex couples said to mark the occasion was their choice. However, marriages are based on the formal exchange of vows, and it means there is a set framework to base the ceremony around. As traditional wedding vows are gender-specific, LGBT+ couples write their own to make them either relevant to their gender or gender-neutral. 'Life partners' or 'partners for life' are the most popular choices to replace 'husband and wife', but it's best to chat to your celebrant or registrar in advance so they know how you'd like to be referred to. Personalised vows that come from the heart are a beautiful moment in the ceremony, and after the standard legal declarations, you can usually get as creative as you like. However, some venues may be stricter with what you can and can't say, so it's best to also discuss this with the venue and officiant.
The tradition of a bride taking her husband's surname started at a time where men and women were not considered equal, so this notion often doesn't sit very well with same-sex couples who've fought long and hard for equality. Therefore, the majority of same-sex couples choose to keep their own names after marriage, or will hyphenate or merge their surnames. This is something that can be reconsidered later down the line, with some couples choosing only to merge their names once they start a family.
The tradition of the bride's family paying for the wedding is outdated, and most couples pay for their big day themselves or ask both sets of parents to chip in equally. However, this can be a tricky conversation to have, and if money is being contributed it does sometimes mean they'll want some involvement in what the wedding looks like. If you think that will be the case, then it's best to go for something you can comfortably afford yourselves. It's your big day, after all!
Summary
At H.Samuel we believe that a wedding is a celebration of a couple's love for each other, and not of their genders. And just like every relationship is unique, every wedding should be too. Therefore, don't feel you have to follow traditions that don't make sense to you, and instead focus on creating memories that you'll cherish forever. If you're thinking about popping the question, or you're on the hunt for your dream wedding jewellery, exclusive watches or wedding rings, browse our collections online, or visit us in-store where one of our helpful team will be happy to help you find the perfect item to suit your taste and budget.