Get excited, festival season is here. Glastonbury, Bestival, Creamfields, Reading, Isle of Wight (we could go on) are all set for a summer of fun. And what's better than the music at festivals? Festival fashion – more specifically, festival accessories. We know festival style can be tricky. From comfy but cute shoes to the perfect rain-ready mac (we are in England after all), deciding how to dress for four days of camping can be tough. Which is exactly why we put all our efforts into the accessorising – the easy way to look styled even if you're drenched in mud and rainwater. In our opinion, it's Alexa Chung and Kendall Jenner (anyone else see her to-die-for Coachella style?) who do it best, with body jewellery, stacks of bracelets and layers of necklaces, the more the merrier is the NB we've taken.
So, stack it like it's hot this summer, with all the gold vermeil, beads and coloured gems your heart desires. After all, festivals are the perfect time to get creative with your personal style. That's why we've rounded up our favourite festival jewellery looks, from body jewellery to meaningful gemstones. Because looking effortlessly cool whilst sitting in a muddy field never goes out of style.
Go Bold with Body jewellery
Body jewellery is a great way to add edge to your festival look. Adventurous and fun, body jewellery gives the feel it was made exclusively for the festival scene. We're thinking distinctive flower-shaped belly bars, crystal ear climber and stud sets, and of course, the ankle bracelet for a festival essential boho vibe. Anklets do not stop at dainty, simplistic designs (unless that's what you're into), but we're talking body jewellery that makes a statement. Mix and match is the way to go. Take your favourite styles, whether that be a quirky gold cable chain embedded with peach-coloured beads, or a warm yellow gold curb anklet, and pair them together for an instant level up on your look. Festival style this year is all about the more-is-more look, so don't be shy when it comes to stacking up and mixing your metals.
Rock the Layered Jewellery Look
Layers upon layers. A trend that makes a comeback season after season, and one that we can't get enough of ever since Glastonbury fashion icon, Kate Moss, rocked the layered necklace look at Worthy Farm back in 2005. A look that has every influencer obsessed, stacking is an effortless way to style up your look, and there is no better time to take advantage of our stack hacks than the festival season. From combining chokers with pendant necklaces, to mixing staple ring sets. Pick from your favourite pieces to make it a signature look that shows off your personal style. When it comes to layering jewellery get creative and experiment with different textures, tones, and charms. Remember, on this occasion, there is no such thing as too extra.
Add Pearl Power to Your Festival Gems
Pearlcore is a bounce-back trend that's here to stay and we're all for it. Precious pearls are back and more playful than ever. A shift in the shape, size and colour of the classic rounded pearl, gives them a unique and modern appeal: Pearl jewellery is all about embracing the imperfect pearl. Give them a fresh twist with gold-tone hardware – perfect for festival season. You can be as subtle or as over-the-top as you want, and don't be afraid to wear pearl earrings, bracelets, and necklaces altogether. Or be like Harry Styles and strut a single pearl earring and Baroque pearl necklace, because why not? No matter how you choose to rock them, pearls have festival-style written all over them.
Bring a Touch of Sparkle to Your Festival Style
Glitter for festivals? How original. But hear us out. This time round it's not just about hiding the bags under your eyes – call it the Janelle Monae effect, but we're seeing more and more street style stars and influencers accessorising with beautiful diamond jewellery. The everyday essential diamonds take your festival outfit from zero to hero, day-to-night and sparse to sparkle in the twinkle of, well, a diamond. Think diamond earrings and a coordinating diamond cluster pendant for total festival chic vibes. What else would perfectly match the silver glitter of your festival make-up? Or pair blue topaz earrings with your face jewels – another classic festival style must-have.
Add a Pop of Colour to Your Festival Accessories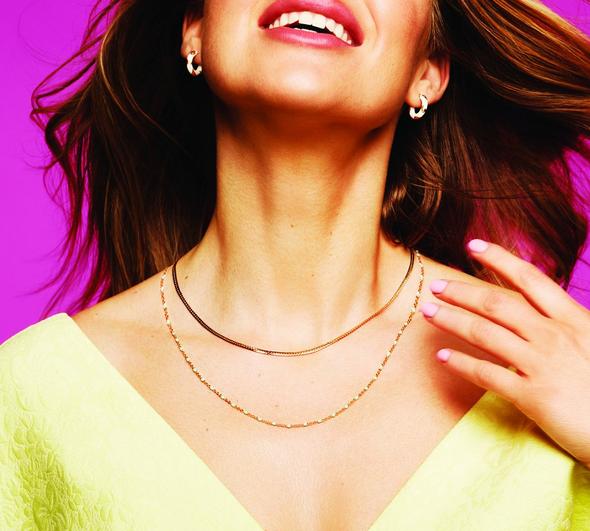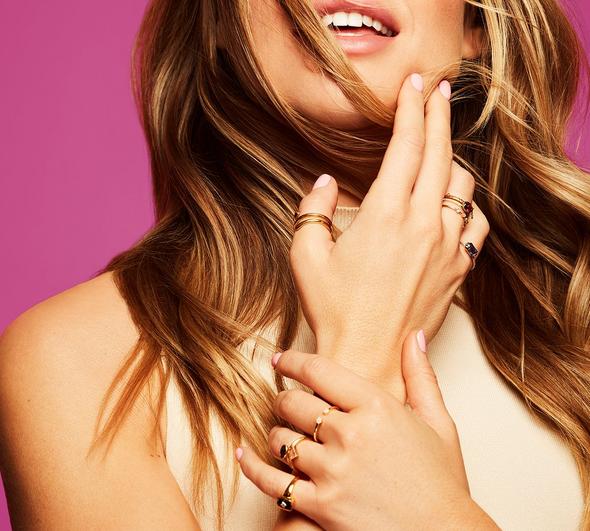 Getting your groove on at Glastonbury (or any other festival) is by far the perfect excuse to switch up your usual style and step outside your comfort zone. It's a chance to be rebellious with bold colour-clashing and going all-in on this season's hottest trend –⁠ juicy jewels and gems. A great way to add mood-boosting colours to your accessories, these meaningful gemstones are leading the way in cool and personalised style this summer, with enamel jewellery at the forefront. With its unique lustre and vibrant tones, there is no doubt it will give you that pop you're looking for. Whether you love the look of white enamel huggies, prefer a delicate cable chain necklace with colourful enamel beads or want to add pops of colour to your ring stacks, it's a bold style guaranteed to make a statement.
Dance the day (and night) away, with our festival fashion hacks and stacks. Remember, we have our style experts on hand to help with all things trending, layering and styling this season, book a virtual or in-store appointment to speak with them.